So, as a few of you know,
Vania
,
Shalonda
,
Kelsey
and I all attended the Oh So Amazing Lauren Conrad book signing. Ugh, I know. But with good people, even the worst situations can become fun! So I arrive at the Barns and Nobles sometime after three and Vania was already there (cause she was soo super excited about the signing, she got there early) and what do you know? It starts to rain. Thankfully Shalonda shows up with an umbrella! We were shortly joined by Kelsey and then proceeded to wait in line surrounded by-- you guessed it, Lauren Conrad lookalikes. You know what I'm talking about.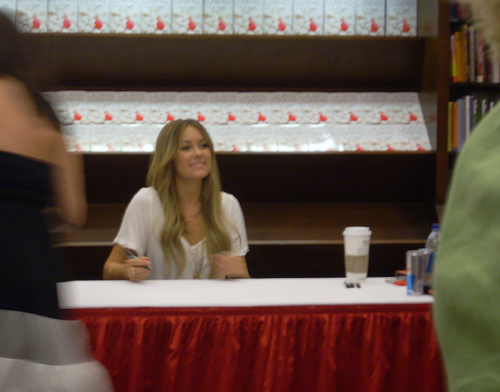 Anywhoo, after receiving our Magenta ticket, we decided to head to the mall and proceed to eat and chit-chat while waiting for the signing to start-- at seven. Which it didn't, by the way. Well, what we did notice about the people surrounding us was, well, their clothing. We saw everything from prom dresses to swim suits-- to a particularly hideous short bodysuit. Who exactly were they dressing up for? Boys? Because from what we saw, they wouldn't be interested in the ones that did show up.
So after discussing our plans to make a movie about the secret lives of book bloggers (starring Ashton) the line started moving. Lauren finally decided to grace us with her presence. I think we all went deaf. A bookstore full of girls screaming really is a unique experience I'm sure only rivaled by Edward Cullen walking into an all girls school. Well, I'm sure the latter would win that contest, but still. They were quite loud.
Shalonda and Vania both got their books signed (and if your interested in winning Vanias, head over to her blog!) and we kind of just chilled. It was really great to meet Shalonda, Kelsey and Vania, and I can't wait to hang with them again!
Oh, and to show you how excited Vania--left (and Shalonda--right) was: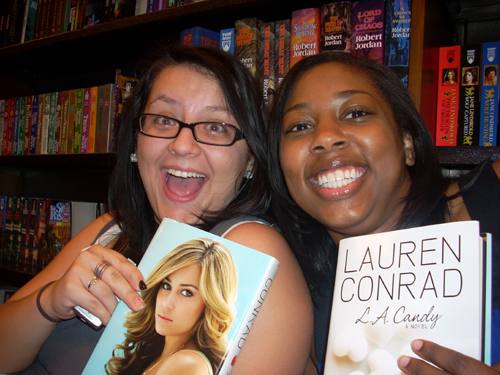 Lol Just kidding. To really understand Vania's deep feelings for Lauren Conrad, please check out her blog.