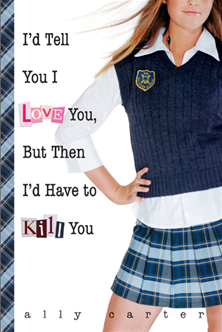 Rating:
4.0/5.0
Re-Read?
Yes I would. It's just that cute!
Recommend?
I recommend this to any Chic-Lit Fan.
Release Date:
April 25, 2006
Publisher:
Hyperion Book CH
Pages:
288 (Paperback)
Synopsis:
Cammie Morgan is a student at the Gallagher Academy for Exceptional Young Women, a fairly typical all-girls school-that is, if every school taught advanced martial arts in PE and the latest in chemical warfare in science, and students received extra credit for breaking CIA codes in computer class. The Gallagher Academy might claim to be a school for geniuses but it's really a school for
spies.


Even though Cammie is fluent in fourteen languages and capable of killing a man in seven different ways, she has no idea what to do when she meets an ordinary boy who thinks she's an ordinary girl. Sure, she can tap his phone, hack into his computer, or track him through town with the skill of a real "pavement artist"-but can she maneuver a relationship with someone who can never know the truth about her?
Cammie Morgan may be an elite spy-in-training, but in her sophomore year, she's on her most dangerous mission-falling in love.
My Thoughts:
Fifteen-year-old Cammie and her friends, Bex and Liz. are more then just "normal" girls. They're Gallagher Girls. Now, if you ask a townie what the Gallagher Girls' are, they would mostly likely say: Rich Juvenile Heiresses that include traits such as snobby and vain. This is in fact,
false
. Gallagher Academy is an all girls school for geniuses. All of their students can speak up to fourteen different languages and take classes so advanced that people usually do not take them until they are earning their PH.D. Not everyone who attends is wealthy, but the acceptance is very exclusive for one reason: The girls are training to be Spies!
I'd Tell You That I Love You, But Then I'd Have To Kill You
is truly a cute read. I read this whole book in one sitting! The pace of the book is just right and the novel takes place in one school year. It's a book about acceptance. That even though Cammie and Josh come from two very different life styles, you can still find love if you give it a chance. Another thing this book explores is that fact that you will always get caught in your lie and you cannot let it rule you so completely that you forget who you are.
The characters are cleverly crafted, each bringing something different to the story. There is Cammie, the Chameleon, our heroine who is very good at making herself invisible. There is Liz, the science genius who cares as deeply for her friends, as she does for her studies. Bex, the beautiful, strong friend whose violent tendencies had me laughing throughout the novel. And of course, there is Macey: The once enemy, turned friend who gives you the truth and nothing but the cold-hard-truth.
Ally Carter cleverly portrays the life of a girl who despite all of her advantages, would like to experience a normal teenage life, even if it's just for a little while. While this book is identified clearly for a younger YA audience, I think any age really could enjoy it. I can't wait to go out and get the next installment,
Cross My Heart And Hope To Spy
.
Details:
Cover:
3.8
Plot:
3.5
Characters:
4.5
Writing:
4.0