Ok, so I was kinda MIA last In My MailBox. Now I have two weeks of books to report on! For that reason, I am going to have to switch up the way I present them... So here we go!
Prophecy of the Sisters by Michelle Zink
(ARC)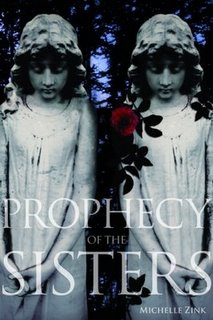 Shout out to my friend who loaned this to me!
Synopsis:
An ancient prophecy divides two sisters-One good...One evil...Who will prevail?
Twin sisters Lia and Alice Milthorpe have just become orphans. They have also become enemies. As they discover their roles in a prophecy that has turned generations of sisters against each other, the girls find themselves entangled in a mystery that involves a tattoo-like mark, their parents' deaths, a boy, a book, and a lifetime of secrets.
Lia and Alice don't know whom they can trust.
They just know they can't trust each other.
Lament by Magg
ie Stiefvater
(Paperback)
Synopsis:
Sixteen-year-old Deirdre Monaghan is a painfully shy but prodigiously gifted musician. She's about to find out she's also a cloverhand—one who can see faeries. Deirdre finds herself infatuated with a mysterious boy who enters her ordinary suburban life, seemingly out of thin air. Trouble is, the enigmatic and gorgeous Luke turns out to be a gallowglass—a soulless faerie assassin. An equally hunky—and equally dangerous—dark faerie soldier named Aodhan is also stalking Deirdre. Sworn enemies, Luke and Aodhan each have a deadly assignment from the Faerie Queen. Namely, kill Deirdre before her music captures the attention of the Fae and threatens the Queen's sovereignty. Caught in the crossfire with Deirdre is James, her wisecracking but loyal best friend. Deirdre had been wishing her life weren't so dull, but getting trapped in the middle of a centuries-old faerie war isn't exactly what she had in mind . . .
Lament is a dark faerie fantasy that features authentic Celtic faerie lore, plus cover art and interior illustrations by acclaimed faerie artist Julia Jeffrey.
The Devouring by Simon Holt (Paperback)
Synopsis:
When Reggie finds an old journal and reads about the Vours, supernatural creatures who feast on fear and attack on the eve of the winter solstice, she assumes they are just the musings of some lunatic author. But soon, they become a terrifying reality when she begins to suspect that her timid younger brother might be one of their victims.
Risking her life and her sanity, Reggie enters a living nightmare to save the people she loves. Can she devour own her fears before they devour her?
Bone-chilling, terrifying, thrilling...
what are you waiting for
?
Wintergirls by
L
aurie Halse Anderson
(Hardback)
Synopsis:
"Dead girl walking," the boys say in the halls.
"Tell us your secret," the girls whisper, one toilet to another.
I am that girl.
I am the space between my thighs, daylight shining through.
I am the bones they want, wired on a porcelain frame.
Lia and Cassie are best friends, wintergirls frozen in matchstick bodies, competitors in a deadly contest to see who can be the skinniest. But what comes after size zero and size double-zero? When Cassie succumbs to the demons within, Lia feels she is being haunted by her friend's restless spirit.
In her most emotionally wrenching, lyrically written book since the multiple-award-winning Speak, Laurie Halse Anderson explores Lia's descent into the powerful vortex of anorexia, and her painful path toward recovery.
Generation Dead by Da
niel Waters
(Paperback)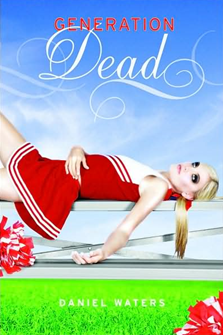 Synopsis:
Phoebe Kendall is just your typical Goth girl with a crush. He's strong and silent...and dead.
All over the country, a strange phenomenon is occurring. Some teenagers who die aren't staying dead. But when they come back to life, they are no longer the same. Feared and misunderstood, they are doing their best to blend into a society that doesn't want them.
The administration at Oakvale High attempts to be more welcoming of the "differently biotic." But the students don't want to take classes or eat in the cafeteria next to someone who isn't breathing. And there are no laws that exist to protect the "living impaired" from the people who want them to disappear--for good.
When Phoebe falls for Tommy Williams, the leader of the dead kids, no one can believe it; not her best friend, Margi, and especially not her neighbor, Adam, the star of the football team. Adam has feelings for Phoebe that run much deeper than just friendship; he would do anything for her. But what
if protecting Tommy is the one thing that would make her happy?

Evermore by Alison Noel
(Paperback)
Again, dear friend, Thanks for loaning me this!
Synopsis:
Since a horrible accident claimed the lives of her family, sixteen-year-old Ever can see auras, hear people's thoughts, and know a person's life story by touch. Going out of her way to shield herself from human contact to suppress her abilities has branded her as a freak at her new high school—but everything changes when she meets Damen Auguste…
Ever sees Damen and feels an instant recognition. He is gorgeous, exotic and wealthy, and he holds many secrets. Damen is able to make things appear and disappear, he always seems to know what she's thinking—and he's the only one who can silence the noise and the random energy in her head. She doesn't know who he really is—or what he is. Damen equal parts light and darkness, and he belongs to an enchanted new world where no one ever dies.
I'd Tell You That I Love You, But Then I'd Have To Kill You by Ally Carter (Paperback)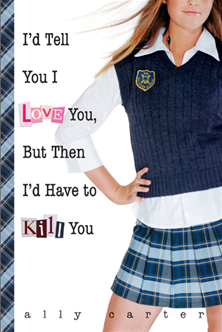 Synopsis:
Cammie Morgan is a student at the Gallagher Academy for Exceptional Young Women, a fairly typical all-girls school-that is, if every school taught advanced martial arts in PE and the latest in chemical warfare in science, and students received extra credit for breaking CIA codes in computer class. The Gallagher Academy might claim to be a school for geniuses but it's really a school for
spies.
Even though Cammie is fluent in fourteen languages and capable of killing a man in seven different ways, she has no idea what to do when she meets an ordinary boy who thinks she's an ordinary girl. Sure, she can tap his phone, hack into his computer, or track him through town with the skill of a real "pavement artist"-but can she maneuver a relationship with someone who can never know the truth about her?
Cammie Morgan may be an elite spy-in-training, but in her sophomore year, she's on her most dangerous mission-falling in love.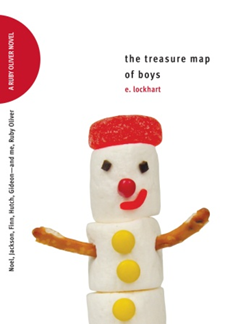 The Treasure Map of Boys by E. Lockhart
(ARC)
Synopsis:
Ruby is back at Tate Prep, and it's her thirty-seventh week in the state of Noboyfriend. Her panic attacks are bad, her love life is even worse, and what's more:
Noel is writing her notes, Jackson is giving her frogs, Gideon is helping her cook, and Finn is making her brownies. Rumors are flying, and Ruby's already-sucky reputation is heading downhill.
Not only that, she's also: running a bake sale, learning the secrets of heavymetal therapy, encountering some seriously smelly feet, defending the rights of pygmy goats, and bodyguarding Noel from unwanted advances.
In this companion novel to The Boyfriend List and The Boy Book, Ruby struggles to secure some sort of mental health, to understand what constitutes a real friendship, and to find true love—if such a thing exists.
Other Books:
These are books I have bought and that my lovely friends have given me.
-
Dead Until Dark
by Charlaine Harris
(Paperback)
-
Living Dead in Dallas by Charlaine Harris
(Paperback)
-
Undone
by Brooke Taylor
(ARC)
-
After The Moment by Garret Freymann-Weyr
(ARC)
-
Beige by Cecil Castellucci
(ARC)
-
StoneHeart by Charlie Fletcher
(ARC)
-
The Black Sheep by Yvonne Collins and Sandy Rideout
(Paperback)
-
The Dark Hunters by Sherrilyn Kenyon
(Paperback)
-
Thirsty by M.T. Anderson
(Paperback)
-
The Queen of Everything by Deb Caletti
(Paperback)
-
Sleepless by Terri Clark
(Paperback)
-
Every Boy's Got One by Meg Cabot
(Paperback)
In My MailBox was created by: The Story Siren.