So here is what I got this week! Sorry this is late, I got really sick yesterday and kinda just slept.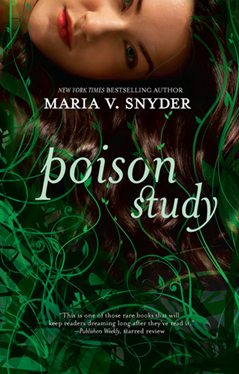 Poison Study

by Maria V. Snyder
(Paperback)
Synopsis:
Locked in a coffin-like darkness, there is nothing to distract me from my memories of killing Reyad. He deserved to die—but according to the law, so do I. Here in Ixia, the punishment for murder is death. And now I wait for the hangman's noose.
But the same law that condemns me may also save me. Ixia's food taster—chosen to ensure that the Commander's food is not poisoned—has died. And by law, the next prisoner who is scheduled to be executed—me—must be offered the position.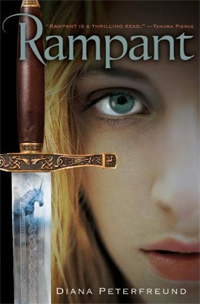 Rampant

by Diana Peterfreund
(Hardcover)
Synopsis:
Forget everything you ever knew about unicorns . . .
Real unicorns are venomous, man-eating monsters with huge fangs and razor-sharp horns. Fortunately, they've been extinct for a hundred and fifty years.
Or not.
Astrid had always scoffed at her eccentric mother's stories about killer unicorns. But when one of the monsters attacks her boyfriend—thereby ruining any chance of him taking her to the prom—Astrid finds herself headed to Rome to train as a unicorn hunter at the ancient cloisters the hunters have used for centuries.
However, at the cloisters all is not what it seems. Outside, the unicorns wait to attack. And within, Astrid faces other, unexpected threats: from the crumbling, bone-covered walls that vibrate with a terrible power to the hidden agendas of her fellow hunters to—perhaps most dangerously of all—her growing attraction to a handsome art student . . . an attraction that could jeopardize everything.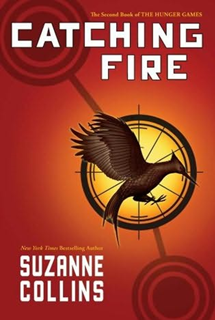 Catching Fire

by Suzanne Collins
(Hardcover)
Yes, I got another one. The other was an ARC, but I saw the hardcover in stores and I just had to get it! SO pretty! x)
Synopsis:
Against all odds, Katniss Everdeen has won the annual Hunger Games with fellow district tribute Peeta Mellark. But it was a victory won by defiance of the Capitol and their harsh rules. Katniss and Peeta should be happy. After all, they have just won for themselves and their families a life of safety and plenty. But there are rumors of rebellion among the subjects, and Katniss and Peeta, to their horror, are the faces of that rebellion. The Capitol is angry. The Capitol wants revenge.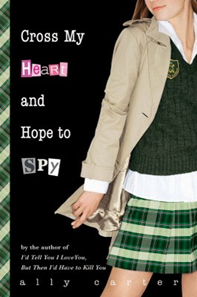 Cross My Heart
A
n
d Hope To Spy

by Ally Carter
(Hardback)
Again, this is a
sec
o
nd copy I just bought. The difference is that it is a hardback, and since Ally Carter will be at the Decatur Book Festival, I thought I would get a hardback to get signed! :)
Synopsis:
After staking out, obtaining, and then being forced to give up her first boyfriend, Josh, all Cammie Morgan wants is a peaceful semester. But that's easier said than done when you're a CIA legacy and go to the premier school in the world . . . for spies.
Cammie may have a genius I.Q., but there are still a lot of things she doesn't know. Like, will her ex-boyfriend even remember she exists? And how much trouble is she really in after what happened last semester? And most of all, why is her mother acting so strangely?
Despite Cammie's best intentions to be a normal student, danger seems to follow her. She and her friends learn that their school is going to play host to some mysterious guests--code name: Blackthorne. Then she's blamed for a security breach that leaves the school's top secret status at risk.
Soon, Cammie and her friends are crawling through walls and surveilling the school to learn the truth about Blackthorne and clear Cammie's name. Even though they have confidence in their spy skills, this time the targets are tougher (and hotter), and the stakes for Cammie's heart--and her beloved school--are higher than ever.
In My MailBox was created by: The Story Siren.