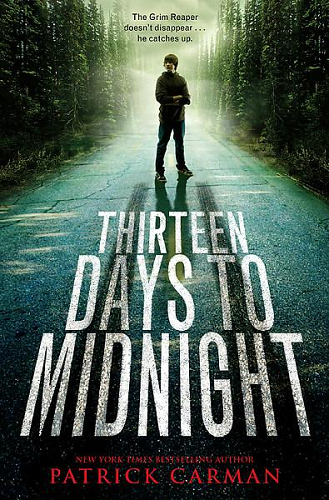 Rating:
4.5
Re-Read?
This is definitely re-readable and worth the purchase.
Recommend?
I definitely recommend this to anyone whether they are fans of the supernatural, psychological thrillers, or just plain YA books.
Release Date:
April 12, 2010
Publisher:
Little, Brown Books for Young Readers
Pages:
304
Synopsis:
You are indestructible
. Three whispered words transfer an astonishing power to Jacob Fielding that changes everything. At first, Jacob is hesitant to use the power, unsure of its implications. But there's something addictive about testing the limits of fear.
Then Ophelia James, the beautiful and daring new girl in town, suggests that they use the power to do good, to save others. But with every heroic act, the power grows into the specter of a curse. How to decide who lives and who dies?
In this nail-biting novel of mystery and dark intrigue, Jacob must walk the razor thin line between right and wrong, good and evil, and life and death. And time is running out. Because the Grim Reaper doesn't disappear. . . . He catches up.
My Thoughts:
When I originally purchased
Thirteen Days to Midnight
, I had no idea what it was really about. It seemed like a promising story and lately I have been really into reading books with male protagonists, so when I picked this one up, I decided to give it a chance. And I am glad I did!
Thirteen Days to Midnight
by Patrick Carman is an YA psychological thriller with a hint of the supernatural. Sounds like a great combination right? It was fantastic! I loved how Carman kept you guessing throughout the whole book, giving you snippets of information without revealing anything big. Enough to keep you guessing, but not enough to let you guess correctly! I read the book in two sittings (and I would have read it in one if I was not distracted by school work!) and my how time flies while reading this book.
I really liked the main character Jacob and his bestie, Milo. I was never super fond of Oh-- she seemed VERY full of herself to me and I felt like she was a bit possessive (though I guess I can understand why) so she was not to my taste. I also like a lot of the side characters and they all seemed so real to me (especially Ethan-- who DOESN'T know a jerk like him?).
I definitely think
Thirteen Days to Midnight
was a great pick-up and hope to read more from Patrick Carman in the future!
Details:
Cover:
5.0
Source:
Purchased from store.