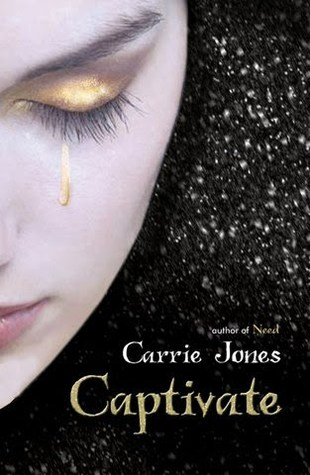 Rating:
4.5
Release Date:
January 5, 2010
Age Level:
14+
Publisher:
Bloomsbury
Pages:
288
Recommend?
I recommend this series to anyone who loves paranormal romances! If you've read
Need
but are unsure if you want to continue-- I promise you-- you won't regret reading
Captivate
.
Synopsis:



Zara and her friends knew they hadn't solved the pixie problem for good. Far from it. The king's needs grow deeper every day he's stuck in captivity, while his control over his people gets weaker. It's made him vulnerable. And now there's a new king in town.

A turf war is imminent, since the new pixie king, Astley, is moving in quickly. Nick nearly killed him in the woods on day one, but Zara came to his rescue. Astley swears that he and Zara are destined to be together, that he's one of the good guys. Nick isn't buying it, though Zara isn't as sure -- despite herself, she wants to trust the new king. But it's a lot more than her relationship with Nick that is at stake. It's her life -- and his.
My Thoughts:
Captivate
is exactly as its name describes. I read this book in one sitting. All I can say is that I definitely underestimated this series--
Captivate
went above and beyond
Need
. Like
Need
, it kind of began slow, but picked up pace really fast. The next thing you know your in this tornado that is
Captivate
and you just have to keep reading!
Captivate
was not only action packed, but emotionally enthralling.
I have to say I switched teams in
Captivate
. You are introduced to a new character-- Astley-- and I have to say I'm in love. Nick's character isn't as strong in this installment but the characters are all back and I love them just as much as before. There are so many secrets and lies-- even between friends-- but I feel that characters like Issie really glue everyone together. There is a particular secret that Nick has been keeping that really bothered me-- so much that I really kind of dislike Nick now. The characters in this series are so real that they really tie the story together. They make it that much more believable! Especially since there is a whole bunch of new-weird things introduced in this book.
So much happens in
Captivate
it is amazing that Carrie Jones was able to fit it all in! I wish it was even longer so that she could have gone more into detail during certain scenes. I can't wait to begin
Entice
, the third installment in the series!
**Reviewed copy was an ARC**
Details:
Cover:
4.5
Writing:
4.0
Source:
Received from Publisher.