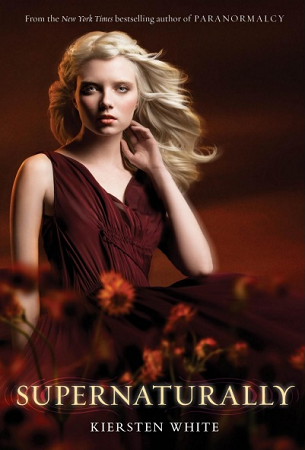 Supernaturally

by Kiersten White
Release Date:
August 30, 2011
Publisher:
HarperTeen
Synopsis:



A lot has changed in the six months since Evie escaped from the International Paranormal Containment Agency with her shape-shifter boyfriend, Lend. She finally has the blissfully normal life she's always dreamed of, including:
1) A real live high school
2) A perfectly ordinary after-school job
3) Her very own locker (and by the way, rusted metal is every bit as awesome as she imagined)

But Evie's not-so-normal past keeps creeping up on her...and things get pretty complicated when you factor in:
1) A centuries-old, seriously decaying vampire stalker
2) A crazy faerie ex-boyfriend who is the perpetual bearer of really bad news
3) A major battle brewing between the faerie courts where the prize in question happens to be...Evie herself.

So much for normal.

Paranormalcy was an instant New York Times bestseller and received rave reviews for its perfect blend of humor and suspense. In a starred review, Publishers Weekly described it as "an absorbing romance, which comes closer than most to hitting the Buffy mark," and bestselling author Lisa McMann called it "the most refreshing paranormal debut of the year." In addition, Kiersten White was chosen as a 2010 Publishers Weekly Flying Start.

Supernaturally's spot-on teen voice, dynamite characters, and heartpounding climax will have readers breathlessly awaiting the third and final installment in the trilogy. (Synopsis from Author's website).
I absolutely LOVE that cover! So, what is everyone waiting for this Wednesday? ;)
Pre-order it here:
Amazon
Waiting on Wednesday
is brought to us by:
Breaking The Spine
.