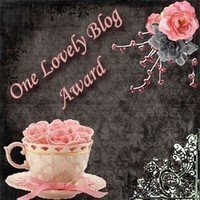 It seems in the past week I have won this award three times! I would like to say a big Thank You to those who nominated me:
Michelle's Bookshelf
,
Escape in a Book
, and
Crakin' Spines and Takin' Names
. It really means a lot since I'm just starting out. I want to make sure I am doing everything right!
According to this award, I am suppose to nominate 15 blogs that I have recently stumbled upon and that I think are
Lovely
. I think I can only get to 10, but Here goes!
I nominate:
1-
The Book Pixie
2-
Fantastic Book Review
3-
Pirate Penguin's Reads
4-
Book Bunny
5-
Reading Rocks
6-
Bloody Bookaholic
7-
So Many Books, So Little Time
8-
{Insert Book Title Here}
9-
Katie's Bookshelf
10-
Cornucopia of Reviews
Please check them out! They have lovely blogs and have been wonderful to me! <3