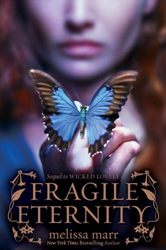 Rating:
4.5/5.0
Re-Read?
Yes! This book is definitely worth a few re-reads-- I cannot wait for the next one!
Recommend?
Again, I recommend this series to really anyone who has an interest in fantasy or faerie related topics. There really wasn't much sexual content except for in conversation.
Publisher:
Harper Teen/ 389 pages
Synopsis:
Seth never expected he would want to settle down with anyone—but that was before Aislinn. She is everything he'd ever dreamed of, and he wants to be with her forever. Forever takes on new meaning, though, when your girlfriend is an immortal faery queen.
Aislinn never expected to rule the very creatures who'd always terrified her—but that was before Keenan. He stole her mortality to make her a monarch, and now she faces challenges and enticements beyond any she'd ever imagined.
In Melissa Marr's third mesmerizing tale of Faerie, Seth and Aislinn struggle to stay true to themselves and each other in a milieu of shadowy rules and shifting allegiances, where old friends become new enemies and one wrong move could plunge the Earth into chaos.
(Amazon Product Description)
My Thoughts:
Caught up in the faery world, Seth does his best to juggle his brotherhood with Niall, his relationship with Aislinn, and his mortal life. But dating a faery queen isn't easy. How far can love last when it seems everything is against what you really want? Seth wants one simple thing: to be with Aislinn forever. She is his 'it'. His always and forever. But, she will always belong to Keenan in some way-- and Seth can't help but wonder what will happen when he eventually grows old and dies. In desperation to keep Aislinn, he searches for ways to make her his forever.
I really had very few problems with this book. I really didn't appreciate all the negativity towards Keenan. I don't believe the author made it clear enough in previous books that Keenan was such a terrible person.
I feel that people look too harshly on him and I actually really like Keenan-- more so then Seth. I think he is not as bad as everyone seems to make him and he just wants what's best for his court and Queen. I don't understand how you can criticize that, especially since that is what he is supposed to be-- The Summer King.
Keenan's off and on relationship with Donia bothered me-- It seemed to be over before it really even started. Pointless hurt on Donia's part...
Out of all of the three books,
Fragile Eternity
is my favorite. The plot was increasingly interesting and the characters were relateable. Can we say love triangle any louder? I really do love Melissa Marr's faery court system. While Donia is my favorite character, the Summer Court is my favorite court.
The POV changes constantly throughout the novel, but it flows very fluidly and there was never any confusion on who was narrating. In the beginning there were a few slower parts, but as soon as you passed them, the book really took off.
If you enjoyed
Wicked Lovely
, I am sure you will be entranced by Melissa Marr's newest edition to the series.
Fragile Eternity
left me wanting more and more of Melissa Marr's beautifully crafted world where all things Fae are possible.