I'm looking forward to reading all of these in the upcoming week! More reviews to follow!! Also, I should have Fragile Eternity's review up soon! Sorry for the slow week... I've been busy since I got a new job. :)
Strange Angels
by Lili St. Crow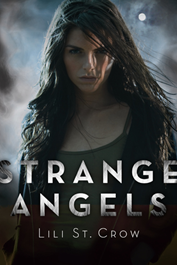 Synopsis:
Dru Anderson has what her grandmother called "the touch." (Comes in handy when you're traveling from town to town with your dad, hunting ghosts, suckers, wulfen, and the occasional zombie.)
Then her dad turns up dead—but still walking—and Dru knows she's next. Even w
orse, she's got two guys hungry for her affections, and they're not about to let the fiercely independent Dru go it alone. Will Dru discover just how special she really is before coming face-to-fang with whatever—or
whoever
— is hunting her?
(Amazon Pro
duct Description).
Swoon
by Nina Malkin
Synopsis: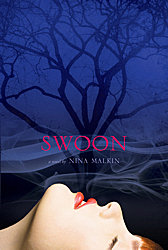 Sin is coming...prepare to swoon.
Torn from her native New York City and dumped in the land of cookie-cutter preps, Candice is resigned to accept her posh, dull fate. Nothing ever happens in Swoon, Connecticut...until Dice's perfect, privileged cousin Penelope nearly dies in a fall from an old tree and her spirit intertwines with that of a ghost. His name? Sinclair Youngblood Powers. His mission? Revenge. And while Pen is oblivious to the possession, Dice is all too aware of Sin. She's intensely drawn to him -- but not at all crazy about the havoc he's wreaking.
Determined to exorcise the demon, Dice accidentally sets Sin loose, gives him flesh, makes him formidable. Now she must destroy an even more potent -- and irresistible -- adversary before the whole town succumbs to Sin's will. Only trouble is, she's in love with him.
What do you do when the boy of your dreams is too bad to be true?
(Amazon Product Description).
The Demon's Lexicon
by Sarah Rees Brennan
Synopsis:
Nick and his brother, Alan, have spent their lives on the run from magic. Their fath
er was murdered, and their mother was driven mad by magicians and the demons wh
o g
ive them power. The magicians are hunting the Ryves family for a charm that Nick's mother stole -- a charm that keeps her alive -- and they want it badly enough to kill again.
Danger draws even closer when a brother and sister come to the Ryves family for help. The boy wears a demon's mark, a sign of death that almost nothing can erase...and when Alan also gets marked by a demon, Nick is des-perate to save him. The only way to do that is to kill one of the magicians they have been hiding from for so long.
Ensnared in a deadly game of cat and mouse, Nick starts to suspect that his brother is telling him lie after lie about their past. As the magicians' Circle closes in on their family, Nick uncovers the secret that could destroy them all.
This is the Demon's Lexicon. Turn the page.
(Amazon Product Description).

The In My MailBox Meme is brought to us by

The Story Siren

!