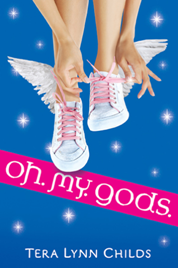 Teaser Tuesday:

Oh. My. Gods.

by Tera Lynn Childs
I have to say I love this cover... It is really what made the final decision to buy it!
My Teaser:
"You," I say, leaning forward and giving him a peck on the cheek, "are a rock star in a coward's clothing."
"Was that supposed to be a compliment?"
page 253 by Tera Lynn Childs
Haha I thought this was cute (even though I am not nearly there yet!)
Rules:

1) Grab your current read
2) Open to a random page
3) Share two (2) "teaser" sentences from somewhere on that page
4) BE CAREFUL NOT TO INCLUDE SPOILERS! (make sure that what you share doesn't give too much away! You don't want to ruin the book for others!
)
5) Share the title & author, too, so that other TT participants can add the book to their TBR Lists if they like your teasers!


Teaser Tuesday is brought to us by
Should Be Reading
.