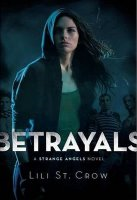 Betrayals
by Lili St. Crow
Release Date:
November 17, 2009
Synopsis:
She's no angel . . .
Poor Dru Anderson. Her parents are long gone, her best friend is a werewolf, and she's just learned that the blood flowing through her veins isn't entirely human. (So what else is new?)
Now Dru is stuck at a secret New England Schola for other teens like her, and there's a big problem— she's the only girl in the place. A school full of cute boys wouldn't be so bad, but Dru's killer instinct says that one of them wants her dead. And with all eyes on her, discovering a traitor within the Order could mean a lot more than social suicide. . .
Can Dru survive long enough to find out who has betrayed her trust—and maybe even her heart?
Ever since I read Strange Angels, I've been eagerly awaiting Betrayals!! It looks really promising! So, What did you guys post?
Waiting on Wednesday is brought to us by:
Breaking The Spine
.