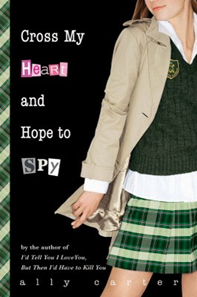 Rating:
4.1/5.0
Re-Read?
This was so fast and cute, I can't wait to find time to re-read it!
Recommend?
Yep! To anyone who loved the first book.
Release Date:
Reprint: December 28, 2008
Publisher:
Hyperion Book CH
Pages:
256 (Paperback)
Synopsis:
After staking out, obtaining, and then being forced to give up her first boyfriend, Josh, all Cammie Morgan wants is a peaceful semester. But that's easier said than done when you're a CIA legacy and go to the premier school in the world . . . for spies.


Cammie may have a genius I.Q., but there are still a lot of things she doesn't know. Like, will her ex-boyfriend even remember she exists? And how much trouble is she really in after what happened last semester? And most of all, why is her mother acting so strangely?


Despite Cammie's best intentions to be a normal student, danger seems to follow her. She and her friends learn that their school is going to play host to some mysterious guests--code name: Blackthorne. Then she's blamed for a security breach that leaves the school's top secret status at risk.


Soon, Cammie and her friends are crawling through walls and surveilling the school to learn the truth about Blackthorne and clear Cammie's name. Even though they have confidence in their spy skills, this time the targets are tougher (and hotter), and the stakes for Cammie's heart--and her beloved school--are higher than ever.
My Thoughts:
In this second Gallagher girls novel, Cammie and her friends are faced with a whole new set of problems. Sure, Cammie can speak fourteen different languages and infiltrate any security system. What she can't handle is seeing Josh again-- especially when hes not alone. While dealing with all of her mixed up feelings over Josh, Cammie, Bex and Liz have a new case to crack-- Blackthorne. Time to turn from school girls to spies once again!
In this delightful sequel to
I'd Tell You That I Love You, But Then I'd Have To Kill You
, Ally Carter does not disappoint! The spy tales of the Gallagher girls continue with even more boy drama, heart break, trust issues, and of course-- espionage fun!
The introduction to a few new characters kept the plot refreshing and interesting-- especially characters as enticing as Zach. Seemingly the bad-boy Josh wasn't, Zach showed me a different side to Cammie. He brought qualities out of her Josh would never have been able to touch. Both figuratively and literately.
Cross My Heart And Hope To Spy
had me just as entranced as its predecessor. I can't wait to get my hands on
Don't Judge A Girl By Her Cover
, which came out June 8th!
Details:
Cover:
4.0
Plot:
4.0
Characters:
4.5
Writing:
4.0