Since I got so many fabulous books last week, this week was rather slow. But! I am greatly looking forward to reading these none-the-less. It's about quality, not quantity. x) Here is what I got!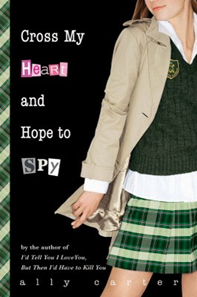 Cross My Heart And Hope To Spy

by Ally Carter
(Paperback)
Synopsis:
After staking out, obtaining, and then being forced to give up her first boyfriend, Josh, all Cammie Morgan wants is a peaceful semester. But that's easier said than done when you're a CIA legacy and go to the premier school in the world . . . for spies.


Cammie may have a genius I.Q., but there are still a lot of things she doesn't know. Like, will her ex-boyfriend even remember she exists? And how much trouble is she really in after what happened last semester? And most of all, why is her mother acting so strangely?


Despite Cammie's best intentions to be a normal student, danger seems to follow her. She and her friends learn that their school is going to play host to some mysterious guests--code name: Blackthorne. Then she's blamed for a security breach that leaves the school's top secret status at risk.


Soon, Cammie and her friends are crawling through walls and surveilling the school to learn the truth about Blackthorne and clear Cammie's name. Even though they have confidence in their spy skills, this time the targets are tougher (and hotter), and the stakes for Cammie's heart--and her beloved school--are higher than ever.
The Boyfrie
nd List

by E. Lockhart
(Paperback)
Synopsis:
Ruby Oliver is 15 and has a shrink. She knows it's unusual, but give her a break—she's had a rough 10 days. In the past 10 days she:
lost her boyfriend (#13 on the list),

lost her best friend (Kim),
lost all her other friends (Nora, Cricket),

did something suspicious with a boy (#10),

did something advanced with a boy (#15),

had an argument with a boy (#14),

drank her first beer (someone handed it to her),

got caught by her mom (ag!),

had a panic attack (scary),

lost a lacrosse game (she's the goalie),
failed a math test (she'll make it up),

hurt Meghan's feelings (even though they aren't really friends),
became a social outcast (no one to sit with at lunch)

and had graffiti written about her in the girls' bathroom (who knows what was in the boys'!?!).

But don't worry—Ruby lives to tell the tale. And make more lists.
-------------------------------------
Well that is it for this week! Not my normal genre, I do say, but since I liked the first Ally Carter book and since I received the ARC of The Treasure Map of Boys, I thought I would give these a go!
In My MailBox was created by: The Story Siren.