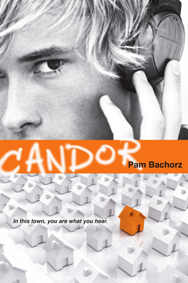 Candor
by Pam Bachorz
Release Date:
September 22, 2009
Publisher:
EgmontUSA
Synopsis:
Oscar Banks has everything under control. In a town where his father brainwashes everyone, he's found a way to secretly fight the subliminal Messages. He's got them all fooled: Oscar's the top student and the best-behaved teen in town. Nobody knows he's made his own Messages to deprogram his brain. Oscar has even found a way to get rich. For a hefty price, he helps new kids escape Candor, Florida before they're transformed into cookie-cutter teens. But then Nia Silva moves to Candor, and Oscar's carefully-controlled world crumbles.
Read the first chapter: Here

-------------------------------------
I just had to choose this one for my WOW. Look at those lovely colors on that cover! x) Anyways, I've heard a lot of good things about this so far and I cannot wait to read it!
Waiting on Wednesday is brought to us by:
Breaking The Spine
.