Hello everyone!! I apologize for being MIA this week- just started my second year of college!! This week has been hectic, and I'm STILL not unpacked yet (and I moved in on Sunday!). But I have a few things that are definitely coming up next week, so lemme give you guys some info on what I have coming up.


First off, I am so happy to announce that I was nominated for the
Best Speculative Fiction Blog Award
(i.e. Fantasy, Horror, Sci-fi, Spec-fic) for
Book Blogger Appreciation Week
(BBAW). You have no idea how thrilled I am to even be nominated! I was just going to humbly watch this years BBAW and maybe try to participate next year-- so you should have seen my surprise when I received my nomination email!! Thank you, Thank you, Thank you! I know my chances of winning are not the highest, since I am a relatively new blogger, but the thought means so much to me.
Another really awesome subject I want to touch is a vlog
Vania
,
Kelsey
and I did last weekend when we had a little get together. It was basically a Books We Recommend vlog, which we had bouts of laughter and silly giggling jumbled in with a few of our favorite books. It was fabulous, and if you are looking for a few recommendations, I would check it out!
Click here
to
check out the vlog
.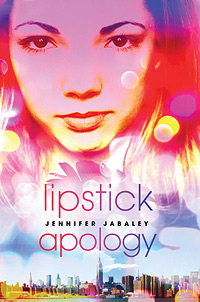 Last but not least,
Little Shop of Stories
is hosting a signing for
Jennifer Jabaley
(author of
Lipstick Apology)
which I will be attending (with Kelsey, Vania, and Shalonda). It is sure to be awesome, so if you live in the Decatur, GA area, I would definitely check this one out. Ginger Rue, Author of
Brand New Emily
, will also be there signing copies of her book. There will be a lot to do, including a visit from Justine magazine's Spark Book Club, raffles and of course, meeting Jennifer! So now you know what I am up to.
Besides everything above, this week expect a review, interview and my very first (0fficial) Vlog. And maybe a contest for a signed copy of the pretty book above? We'll see!