Becca Fitzpatrick
is the author of the debut novel
Hush, Hush
.
Hush, Hush
is now available online and in bookstores.
Questions on

Hush, Hush

:
Tainted Poet:
First off, could you give us a brief summery of

Hush, Hush

?
Becca Fitzpatrick:
Hush, Hush is a dark and sexy story about a girl who falls for a fallen angel with a dark agenda to become human.
TP:
I really love the title. How did you come up with it?
BF:
I had to scratch the original title of the book, because during the years it took me to sell the book, a popular YA novel came out with the same title. So I went back to the drawing board. I don't remember having a Eureka! moment when I knew I had to call the book Hush, Hush, but I do remember thinking the foundation of the book is about secrets Patch keeps from Nora. Since the definition of the word hush is "to keep concealed," it just seemed to fit.
TP:
Any favorite characters?
BF:
Vee, hands down! She's hilarious and quirky. She's the best friend every girl needs in her corner.
TP:
A lot of authors draw inspiration from fairy tales or legends. Was there anything that inspired you to write Hush, Hush?
BF:
The very first inspiration for the story came from an experience in my own tenth-grade biology class. We must have been studying human reproduction, because my teacher asked me, in front of the whole class, to name characteristics I would be attracted to in a mate. I sat next to a really cute boy, and the thought of naming characteristics I might look for in a mate was a humiliation I was not about to subject myself to. But the experience always stuck with me, and when I sat down to write Hush, Hush, that little piece of my history evolved into an early scene in the book.
TP:
Which of your characters would you say most resembles you?
BF:
Probably the quiet girl who sits across the aisle from Vee in biology.
TP:
Is there anything that separates Hush, Hush from other YA books?
BF:
I think it has a great mix of humor and heart-pounding suspense. It's also for older teens – it has a sexy bite.
Other Questions:
TP:
Are there any authors that you are particularly influenced by?
BF:
I love, love, love Sandra Brown's romantic suspense. Killer stuff.
TP:
Have you always wanted to be a writer?
BF:
When I was eight, I watched Romancing the Stone for the first time. Kathleen Turner's character plays a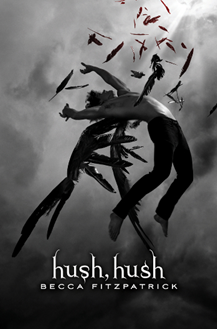 romance novelist who flies to Colombia to rescue her sister from Bad Guys, and ends up finding romance and danger that surpasses anything she's ever written. As soon as I saw the movie, there was no turning back. I knew I wanted to be an author. Of course, I thought all writers hunted for treasure in Colombia with a sexy, mysterious guy who wears crocodile boots!
TP:
Are there any particular foods and drinks that you like to eat and drink while writing?
BF:
My snack choices vary day to day, but I always have a tall glass of water on my desk. I love water! Nothing else tastes half as good, in my opinion.
TP:
Where is your favorite place to write?
BF:
In my study. It's small and messy, but it has great bookshelves, three light-welcoming windows and French doors.
TP:
What would be your ideal date?
BF:
A competitive tennis match, followed by dinner out (preferably on a weeknight, when the crowds are missing). My current favorite restaurant is The Bent Fork – they have killer Rocky Mountain salmon! After dinner, return home and eat some mad awesome dessert. My husband and Betty Crocker make excellent cinnamon streusel muffins.
TP:
What is one question no one ever asks, but you think needs to be asked?
BF:
No one ever asks me what I'm listening to on my iPod right this very minute. And my answer is...the Phantom of the Opera soundtrack.
TP:
Any last statements?
BF:
Just thanks, Eli, for the great interview!
END
Thank you so much for being here with us Becca Fitzpatrick!
Click
HERE
to check out my review for
Hush, Hush
.