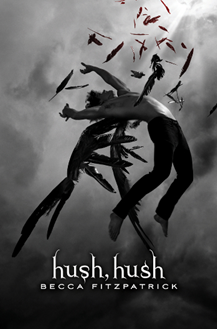 Rating:
4.0/5.0
Re-read?
Of course. :)
Recommend?
I recommend this to any girl who loves a bad boy.
Release Date:
October 13, 2009
Publisher:
Simon & Schuster Children's Publishing
Pages:
400
Synopsis:
For Nora Grey, romance was not part of the plan. She's never been particularly attracted to the boys at her school, no matter how much her best friend, Vee, pushes them at her. Not until Patch came along.
With his easy smile and eyes that seem to see inside her, Nora is drawn to him against her better judgment.
But after a series of terrifying encounters, Nora's not sure who to trust. Patch seems to be everywhere she is, and to know more about her than her closest friends. She can't decide whether she should fall into his arms or run and hide. And when she tries to seek some answers, she finds herself near a truth that is way more unsettling than anything Patch makes her feel.
For Nora is right in the middle of an ancient battle between the immortal and those that have fallen - and, when it comes to choosing sides, the wrong choice will cost her life.
My Thoughts:
Hush, Hush
was a surprising and page turning treat. With great characterization and an intriguing plot, it made quiet the interesting read. I have never really read any books that deal with angels solely, so this was very new to me and it was interesting how Becca Fitzpatrick developed her world and, even more interesting, Patch's place in it.
While I did enjoy the book, I had issues with the pace. I found myself confused at places and had to re-read parts to really understand what the author meant, or what the character was really trying to say. My confusion was not only at the pace, but in general as well. At particular points I didn't understand what was going on or what was happening, and that was a main issue while reading.
Hush, Hush
had great characterization and the characters were very real to me. Nora and Patch (even Nora's friend, Vee) all had their good points and flaws, which made them all very believable. While Patch is our typical 'Bad Boy', there is a lot more to him then just the stereotyped Bad Boy persona. On a deeper level, he just really wanted to be able to feel again, and I feel all his trouble is stemmed from that issue. Nora on the other hand is not exactly who she supposedly portraying. She made enough mistakes and took enough risks that it seems that she really is looking for a thrill, which doesn't exactly match her good girl, plan making character.
The phrase "Something beautiful, a contradiction" came into my head a lot while reading
Hush, Hush
, so I thought I should mention it because that's sort of how I feel about the novel. The cover especially. There is so much more going on then what meets the eye, but it is truly beautiful. I personally cannot wait for another book by Becca Fitzpatrick.
Details:
Cover:
5.0
Plot:
4.5
Characters:
4.0
Writing:
3.0