Rating:
4.0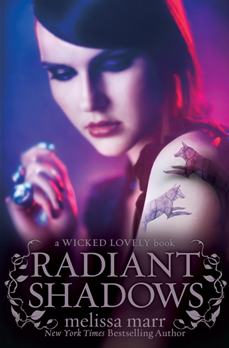 Re-Read:
T
his is actually the second time I've read this book so I would definitely say this is re-readable!
Recommend:
This book was a little more sexy then some other YA books, so I would put an older teen rating on it.
Release Date:
Apr
il 20, 2010
Publisher:
HarperCollins
Pages:
352
Synopsis:





Hunger for nourishment. Hunger for touch. Hunger to belong.


Half-human and half-faery, Ani is driven by her hungers. Those same cravings also attract powerful enemies and uncertain allies—including Devlin, the assassin who is brother to the faeries' High Queen. Ani and Devlin are drawn together, but as they grow closer, a larger threat imperils the whole of Faerie. Will saving the faery realm mean losing each other?

Alluring romance, heart-stopping danger, and sinister intrigue combine in the penultimate volume of Melissa Marr's New York Times bestselling Wicked Lovely series.
My Thoughts:
Radiant Shadows
is the fourth installment in Melissa Marr's
Wicked Lovely
series. Unlike books one, three and five,
Radiant Shadows
does not follow Keenan and Ash's story, but rather a side story. The new POVs, however, are just as essential as our main protagonists and story line. We follow Ani, a half-ling of the hunt and Dark Court and Devlin of the High Court-- Both Reason and Chaos' Brother-son.
Radiant Shadows
definitely had a different feel then any of the prior books. It started up kind of slow for me, but then it really picked up pace and there was just a ton of action. It was almost hard to keep up with, with the constant changes in POV. It was also rather confusing at times, but further reading cleared up any confusion. I feel as though the storyline went everywhere and everything you knew about the courts just flew out the window with all the new information. It was definitely jarring.
Radiant Shadows
is definitely important to the story line, though I cannot say why without spoilers. Lets just say things will never be the same and the mortal world just became that much more dangerous. I found Devlin's relationship to Rae and Ani interesting-- I'm kind of confused as to what exactly it means for all three of them, but I loved being able to see Niall and Irial's relationship develop. I hope we learn a bit more about it in
Darkest Mercy
.
Radiant Shadows
left me hungry for more and I can't wait to begin
Darkest Mercy
, Melissa Marr's final installment in the
Wicked Lovely
series!
Details:
Cover:
4.0
Source:
Received from Publisher.