Not so many this week, but I'm still excited to start reading! Ever since I read
Wicked Lovely
, I've been captivated by Melissa Marr's world. :) In My MailBox is brought to us by:
The Story Siren
.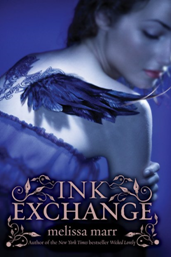 -
Ink Exchange
by Melissa Marr
Unbeknownst to mortals, a power struggle is unfolding in a world of shadows and danger. After centuries of stability, the balance among the Faery Courts has altered, and Irial, ruler of the Dark Court, is battling to hold his rebellious and newly vulnerable fey together. If he fails, bloodshed and brutality will follow.
Seventeen-year-old Leslie knows nothing of faeries or their intrigues. When she is attracted to an eerily beautiful tattoo of eyes and wings, all she knows is that she has to have it, convinced it is a tangible symbol of changes she desperately craves for her own life.
The tattoo does bring changes—not the kind Leslie has dreamed of, but sinister, compelling changes that are more than symbolic. Those changes will bind Leslie and Irial together, drawing Leslie deeper and deeper into the faery world, unable to resist its allures, and helpless to withstand its perils. . . .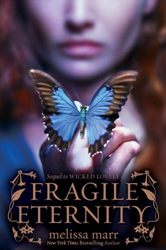 -
Fragile Eternity
by Melissa Marr
Seth never expected he would want to settle down with anyone—but that was before Aislinn. She is everything he'd ever dreamed of, and he wants to be with her forever. Forever takes on new meaning, though, when your girlfriend is an immortal faery queen.
Aislinn never expected to rule the very creatures who'd always terrified her—but that was before Keenan. He stole her mortality to make her a monarch, and now she faces challenges and enticements beyond any she'd ever imagined.
In Melissa Marr's third mesmerizing tale of Faerie, Seth and Aislinn struggle to stay true to themselves and each other in a milieu of shadowy rules and shifting allegiances, where old friends become new enemies and one wrong move could plunge the Earth into chaos.
(Amazon Product Description)