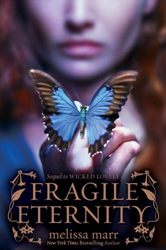 This weeks Teaser Tuesday is an excerpt from
Fragile Eternity
by Melissa Marr. Teaser Tuesday is brought to us by
Should Be Reading
.
My Teaser:
"The touch of his skin to hers was electric. In his eyes, waves crashed against a deserted beach under a perfect sunrise."
-Pg 172 by Melissa Marr
Hope I didn't include any spoilers! Haha, I also noticed that I flipped to page 173 in my last teaser. So close...
Rules:

1) Grab your current read
2) Open to a random page
3) Share two (2) "teaser" sentences from somewhere on that page
4) BE CAREFUL NOT TO INCLUDE SPOILERS! (make sure that what you share doesn't give too much away! You don't want to ruin the book for others!
)
5) Share the title & author, too, so that other TT participants can add the book to their TBR Lists if they like your teasers!