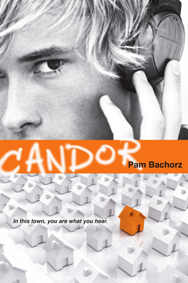 Rating:
4.6/5.0
Re-Read:
Yes, I do plan on re-reading this.
Recommend:
To people who enjoyed books like
The Giver
. Some cussing and sexual references, but nothing too bad.
Release Date:
September 22, 2009
Publisher:
EgmontUSA
Pages:
256
Synopsis:
In the model community of Candor, Florida, every teen wants to be like Oscar Banks. The son of the town's founder, Oscar earns straight As, is student-body president, and is in demand for every club and cause.
But Oscar has a secret. He knows that parents bring their teens to Candor to make them respectful, compliant–perfect–through subliminal Messages that carefully correct and control their behavior. And Oscar's built a business sabotaging his father's scheme with Messages of his own, getting his clients out before they're turned. After all, who would ever suspect the perfect Oscar Banks?
Then he meets Nia, the girl he can't stand to see changed. Saving Nia means losing her forever. Keeping her in Candor, Oscar risks exposure . . . and more.
My Thoughts:
Candor
certainly surprised me. Always on edge and constantly in danger of exposure, Oscar doesn't exactly live a normal life. But what teenager does in Candor, Florida? Where all teenagers brush their teeth before bed, never eat candy or drink pop and always do all their homework and extra credit. But there is more going on then just good parental guidance.
First off, I have to say this book could not have ended better. Whether you love the ending or hate it, it truly was the only way to end this novel. The book starts off rather slow because there is a lot of background information to take in, but once you get started on the last stride of the book, it really gets interesting.
Oscar was very real-- His flaws were what really made him a believable character. Isn't everyone trying to act perfect in front of their parents? Oscar just takes it to the next level. Personally, I didn't really care for Nia's character. I wish I could have seen more into her personality and maybe I would have enjoyed her more. I also originally thought that the side characters like Oscar's girlfriend were all going to be static, but they actually showed some depth in them that I didn't expect. It made the novel that much more enjoyable knowing there is more to them then meets the eye. That behind the brainwashing, some bit of them still exists.
The concept of

Candor

is really what drew me in. The idea that a whole town could be controlled (especially the teenagers) made me want to read more about it-- and I wasn't disappointed. The ending is what sealed the deal for me with
Candor
, but the road there was just as intriguing. A life altering ending to a fantastic book.
Details:
Cover:
5.0
Plot:
5.0
Characters:
4.5
Writing:
4.0