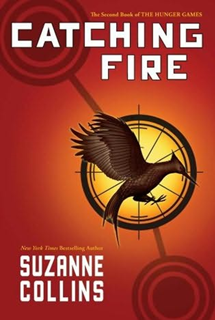 Rating:
5.0/5.0
Re-Read?
Of course! I feel this book is more re-readable then the
Hunger Games
, only because the surprise wasn't as big of a shock.
Recommend?
This was one of my most anticipated books of the year. I recommend
The Hunger Games
and
Catching Fire
to anyone and everyone! Really, go read them if you haven't!
Release Date:
September 1, 2009
Publisher:
Scholastic
Pages:
400
Synopsis:
Against all odds, Katniss Everdeen has won the annual Hunger Games with fellow district tribute Peeta Mellark. But it was a victory won by defiance of the Capitol and their harsh rules. Katniss and Peeta should be happy. After all, they have just won for themselves and their families a life of safety and plenty. But there are rumors of rebellion among the subjects, and Katniss and Peeta, to their horror, are the faces of that rebellion. The Capitol is angry. The Capitol wants revenge.
My Thoughts:
Catching Fire
, one my my most anticipated books of 2009, did not disappoint. Fast paced and enthralling, it was the perfect sequel to one of my favorite books of all time. Suzanne Collins spins a wonderful continuation of Katniss's and Peeta's story. With even more insight to the country that is Panem, ideas are clarified and leave you with even more questions that will keep you reading to the very last page. This is one book I could not put down, even to sleep.
I really loved how I was able to get to know Peeta further. He was one of my favorite characters in
The Hunger Games
and now after
Catching Fire
, I adore him even more. I was a bit disappointed that I still didn't get to see much of Gale. He interests me, but I personally prefer Peeta for Katniss. It was also interesting to see a different side of Katniss in the story. She transformed and grew so much in
Catching Fire
, that she really was deserving of the nickname the Girl on Fire.
Now I am left to wonder what will happen in the next installment! Some very interesting details were reveled at the end of
Catching Fire
, and I cannot wait to see how the story will unfold including them. Knowing these books pretty well by now, I should never expect to guess what might happen-- Surprises are always around the corner! I could not have hoped for a better sequel to
The Hunger Games
.
Details:
Cover:
5.0
Plot:
5.0
Characters:
5.0
Writing:
4.9