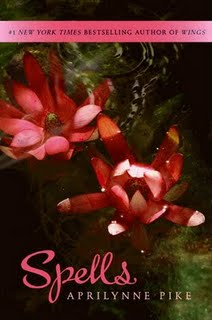 Re-Read?
I have actually already re-read bits and pieces. I have a few favorite parts I like to revisit.
Recommend?
Spells is the second in the series, so I suggest reading
Wings
first.
Release Date:
May 4th, 2010
Synopsis:
"I can't just storm in and proclaim my intentions. I can't 'steal' you away. I just have to wait and hope that, someday, you'll ask," Tamani said.
"And if I don't?" Laurel said, her voice barely above a whisper.
"Then I guess I'll be waiting forever."
Although Laurel has come to accept her true identity as a faerie, she refuses to turn her back on her human life—and especially her boyfriend, David—to return to the faerie world.
But when she is summoned to Avalon, Laurel's feelings for the charismatic faerie sentry Tamani are undeniable. She is forced to make a choice—a choice that could break her heart. (From Amazon).
First off, I am going to try and write this review without fangirling all over Tamani. Do I love Tamani? Yes. Did
Spells
make me fall even deeper in love with his character? Of course! Well with one last fangirl squeal-- Tammmmmaaaaaanniiiii-- I shall begin this review.
Spells
was just as enchanting as
Wings
-- even more so because the story delved deeper into all things fey, which I felt
Wings
lacked. With Laurel going to study in Avalon, of course she was going to get to know Tamani even more personally. I really loved the friction between them. It made the whole book that much more interesting! I guess I'll never get tired of love triangles. I can't exactly say poor David, because he IS the boyfriend, but I really couldn't begin to guess who she'll end up with by the end of the series.
While
Spells
has neither an exceptional writing style nor a completely original plot, I couldn't put the darn fluffy thing down.
Spells
wove a spell around me that was only released on that final page, WHICH, by the way, is a cliffhanger! I cannot express my impatience to read the next in the series. This is definitely a series to keep an eye on.
Source:
Purchased from store.